Es cómodo, cálido, moderno y sofisticado. El modelo Down (sea plumífero o abrigo) de la firma alemana Lempelius lo tiene todo para alzarse como la prenda más completa para afrontar el invierno.
Lempelius fabrica una nueva generación de plumíferos, abrigos y chaquetas, que merecen todas nuestras atenciones.
The definitive quilted anorak does exist (and I've found it): LEMPELIUS
It's comfortable, warm, modern and sophisticated. The Down model (be it the anorak or the coat) by the German brand Lempelius has it all to be put on the top of the list as the most complete item of clothing for facing the winter.
Lempelius makes a new generation of quilted anoraks, coats and jackets that deserve everyone's attention.
La firma, fundada el año 2004 en Berlín por Bettina Lempelius, se ha convertido en una de las marcas más buscadas de prendas de abrigo para la estación más fría del año por la calidad de sus prendas, por sus diseños de silueta 'oversize' (un auténtico 'must have' para no fallar), por sus acolchados ultra ligeros y suaves al tacto, y por sus propuestas de color que van desde los colores vivos como el fucsia, el amarillo, el naranja, el verde carruaje o el azul noche, hasta los tonos pastel o el eterno negro.
The brand, which was founded in 2004 in Berlin by Bettina Lempelius, has become one of the most searched for ítems of outerwear for the coldest season of the year because of the quality of their ítems of clothing, because of their oversize silhouette designs (a real must have that can't let you down), because of their ultra light, soft feel cushioned texture, and because of their colour shades that go from bright colours like fuchsia, yellow, orange, bottle green and midnight blue, to the pastel shades or the eternal black.
La tendencia habla: «Deja que tu estilismo vuele a lo más alto con diseños de silueta 'oversize', largos hasta el tobillo o por debajo de la cadera, acolchados extremos…» ¡Hecho!
The trend speaks for itself: «Let your outfit put you at the top of the charts with oversize silhouette designs, which are ankle length or just below the waist, with extreme quilting…» Done!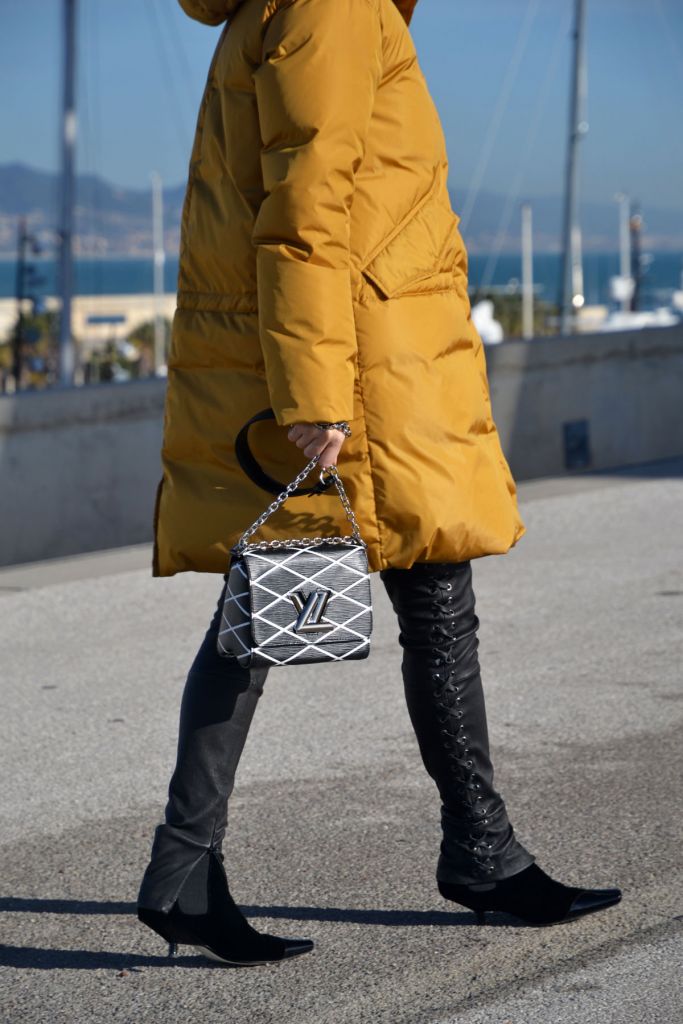 Mi elección, el modelo Honey Yellow Down Parka. Esta temporada ha arrasado, tal es que la firma repetirá producción el próximo invierno ampliando colores. Anotadlo bien las que os habéis quedado sin vuestro plumífero Down Parka de Lempelius.
My choice – the Honey Yellow Down Parka model. This season it has triumphed, so much so that the brand will repeat its production next winter by offering more shades. Take proper note those of you who haven't been able to get your hands on your Down Parka quilted anorak by Lempelius.
Leía recientemente: » A veces –muy pocas, pero alguna pasa– los planetas que determinan el curso de las tendencias se alinean para conseguir hacer compatible lo incompatible. Esto es, que se ponga de moda algo que: A) favorece, B) tiene coherencia con la estación del año de turno y C) que además es cómodo, o mejor, súper cómodo.» No encuentro mejor forma de describir esta prenda.
I was reading recently: «At times –not very often, but it can happen– the planets that determine the course of the trends align in order to make the incompatible compatible. Having said that, something that becomes fashionable should be: A) flattering, B) make sense to wear it in the season in question and C) in addition be comfortable or, even better, super comfortable.» I can't find a better way to describe this item of clothing.
Entre sus otras propuestas de plumífero, mis favoritos son: 1. Honey Yellow Short Fitted Down Coat, 2. Black Down Parka, y 3. Dark Green Fitted Down Coat…
Así que sí, es oficial: estamos ante la prenda más completa de la temporada, el plumífero, y la firma Lempelius.
Among their other quilted anorak styles, my favourites are: 1. Honey Yellow Short Fitted Down Coat, 2. Black Down Parka, and 3. Dark Green Fitted Down Coat…  
So without a shadow of a doubt, it's official: we are looking at the most complete item of clothing this season, the quilted anorak, and the brand Lempelius.
Parka Honey yellow Down / Honey yellow Down Parka: Lempelius AW16. Info: info@lempelius.net. Americana / Blazer: Forte_Forte AW16 para Tomates Fritos. Info: 932092617. Jersey / Round-Neck: SET Fashion FW16 para Kalma. Info: 932006379. Pantalón de piel modelo Dakota / Dakota leather pant aquí de SET Fashion AW16. En Barcelona de venta en Kalma. Info: 932006379. Chelsea boot: Loewe AW16. Info: 932160400. Bolso / Bag: Twist Épi Malletage de la colección Cruise 2015 de Louis Vuitton. Colgante / Necklace: Tous. Gafas / Sunglasses: MET-RO / GOLD, Gold Mirrow aquí de Spektre SS16.

Fotos: Gorka González
Manicura / Manicure: Vanitas Espai. Info: 933682555. Cosmética Facial / Face Cosmetic: Sepai. Cosmética Corporal / Body Cosmetic: Twelve Beauty. En Barcelona de venta en JC Apotecari. Cosmética Capilar / Hair Cosmetic: Miriam Quevedo. Colorista / Colorist: Olivier Besseau. Peluquero / Hair Stylist: Damien Ducorney para L'Adresse.
Sígueme / Follow me
FACEBOOK      INSTAGRAM     TWITTER    PINTEREST