El pasado jueves 8 de noviembre de 2018 asistí al 'workshop' y posterior almuerzo que organizó Farfetch junto con el diseñador de joyas Anton Heunis en el estudio que este dispone en el centro histórico de Madrid.
Farfetch for Anton Heunis
On Thursday 8th November 2018 I attended the workshop and follow-up lunch that was organised by Farfetch alongside the jewellery designer Anton Heunis in the studio that they have in the historical centre of Madrid.
Os cuento un poco. Como muchas ya conoceréis, Farfetch es un 'marketplace' en el que se pueden encontrar las prendas y los accesorios de las colecciones actuales que tienen las 'boutiques' de lujo de todo el mundo. No es un 'outlet'; Farfetch vende las colecciones de la temporada y es el 'e-commece' con la mayor variedad de marcas de moda del mercado.
Let me tell you a bit about it. As many of you will already know, Farfetch is a marketplace where you can find the items of clothing and accessories from the current collections that are stocked by luxury boutiques all around the world. It's not an outlet; Farfetch sells the in-season collections and it is the e-commerce store with the largest range of fashion brands on the market.
Como nos cuentan, "A 31 de marzo de 2018, más de 2.900 marcas diferentes estaban disponibles en nuestro portal, desde firmas insignia hasta diseñadores emergentes. Nuestros consumidores pueden comprar a través de categorías como ropa de mujer, ropa de hombre, ropa de niños, vintage, relojes finos y joyas, etc., con envío a 190 países de todo el mundo. Operamos el único mercado digital global de moda de lujo del mundo, donde los amantes de la moda pueden comprar desde cualquier rincón del mundo una gama incomparable de productos increíbles, de las mejores marcas y 'boutiques' del planeta."
As they say, "On 31st March 2018, more than 2,900 different brands were available on our site, from hallmark brands to emerging designers. Our consumers can shop via categories such as womenswear, menswear, children's clothing, vintage, designer and fashion watches, etc., with delivery to 190 countries all around the world. We operate in the only global digital market for luxury fashion in the world, where fashion lovers can shop from anywhere worldwide for an unapparelled range of incredible products, from the best brands and boutiques on the planet."
Hay que señalar que además de vender los productos de las 'boutiques' de lujo, también venden los productos de marcas de moda como Manolo Blahnik o Burberry, y de centros comerciales, como Harvey Nichols.
It's worth mentioning that as well as selling the products from luxury boutiques, they also sell the products made by fashion brands like Manolo Blahnik or Burberry, and shopping centres, like Harvey Nichols.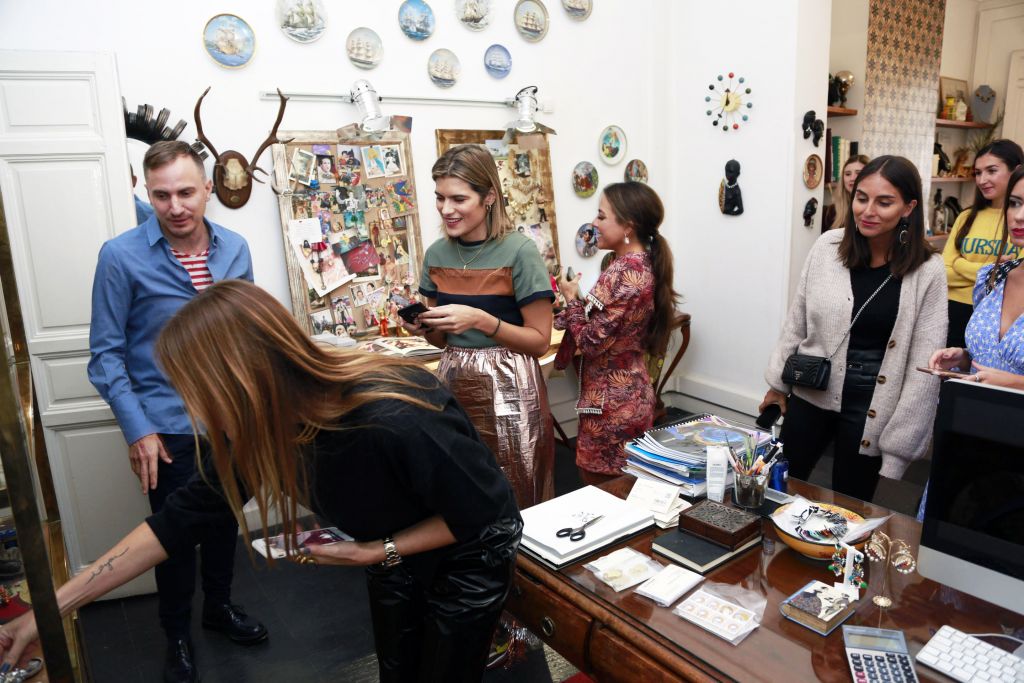 Recientemente Farfetch lanzó su categoría de joyería y relojes para acercar y dar a conocer a los diseñadores que forman parte de ella y sus colecciones. Entre ellos, Anton Heunis, con una preciosa e interesante selección de joyas de su colección actual para Farfetch.
Farfetch recently launched its jewellery and watches section so as to make them available and let us become familiarised with the designers that it is made up by and their collections. Among them, Anton Heunis, with a lovely and interesting selection of jewellery from their current collection for Farfetch.
Anton Heunis es una firma de joyería internacional dedicada a la creación de piezas únicas realizadas a mano con cristales Swarovski, piedras semipreciosas y singular vidrio vintage. Sus diseños respiran una estética contemporánea y atemporal, y sus colecciones están disponibles en más de 500 tiendas en centros comerciales y 'boutiques' exclusivas a nivel mundial.
Anton Heunis is an international jewellery brand that is dedicated to the creation of unique handmade pieces with Swarovski crystals, semi-precious gemstones and vintage glass trinkets. His designs live and breathe a contemporary and timeless look, and his collections are available in more than 500 stores in shopping centres and exclusive boutiques at an international level.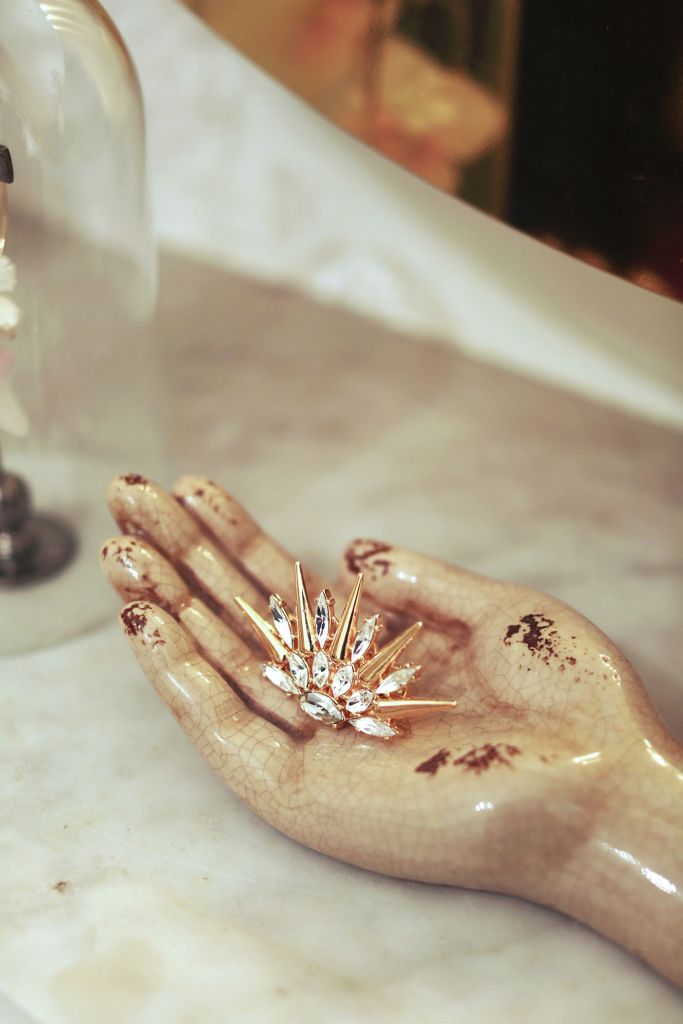 La cotidianidad es el punto de partida de su imaginario, plasmando sus impresiones con un estilo 'vintage' moderno que se ha convertido en su sello personal.
Everyday life is the starting point for his imagination, shaping its impressions with a modern vintage style that has become his personal trademark.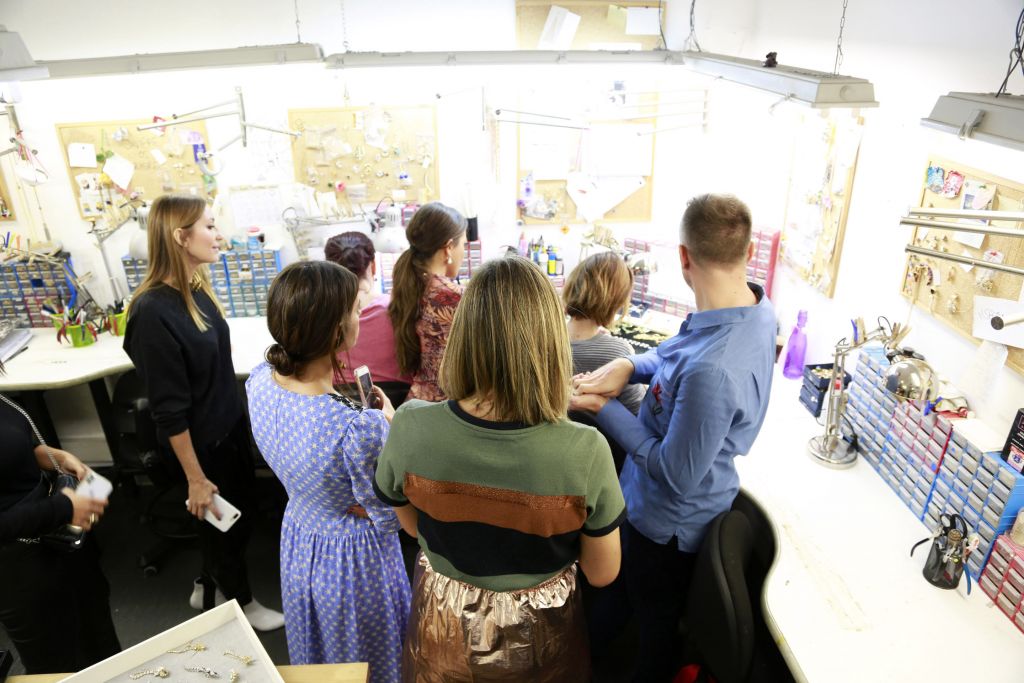 "La joyería es algo personal, algo íntimo y debe ser hecha con amor. Todo comenzó con la mesa de tocador de mi abuela, siempre estaba cubierta de hermosa joyería y cepillos de pelo esmaltados… así que, desde muy joven, quedé embelesado…", Anton Heunis.
"Jewellery is something personal, something intimate and it must be handled with care. It all began on the top of my grandmother's dressing table, which was always covered by a beautiful array of jewellery and painted hairbrushes… therefore, from a very young age, I was spellbound…", Anton Heunis.
Con una licenciatura en Bellas Artes (Stellenbosch, Sudáfrica) y posteriormente un Máster en Orfebrería (Múnich, Alemania), Anton Heunis arrancó en 2004 su propia firma de joyería en Madrid. Lo que en su día comenzó como un bonito sueño, el de realizar preciosas joyas desde su casa en Madrid, ha crecido hasta convertirse en una firma internacional de joyería.
With a degree in Fine Arts (Stellenbosch, South Africa) followed by a Master's in Goldsmithing (Munich, Germany), Anton Heunis kicked off 2004 with his own jewellery brand in. Madrid. What started off as just a nice dream one day, that of making lovely pieces of jewellery from his home Madrid, has grown so much so that it has become an international jewellery brand.
De la mano de Farfetch me encantó conocer en primera persona a Anton Heunis, ver cómo creaban las joyas en su estudio, y poder participar en el diseño de una de ellas, mi joya.
Thanks to Farfetch I loved getting to know Anton Heunis in person, seeing how he was creating the pieces of jewellery in his studio, and being able to take part in the design of one them, my jewel.
Elegí de base (de mi joya) un pendiente de su colección MEME: "Una colección de pendientes y collares en las cuales se usan frases sencillas para expresar, burlarse o simplemente reírse de la vida cotidiana." ¿Mi mensaje? 'IT WAS ALL A DREAM'. Está claro que a veces la realidad se entremezcla con el imaginario. Le sumé perlas y un divertido ojo, el ojo que todo lo ve.
I chose the base (of my jewel), an earring from his MEME collection: "A collection of earrings and necklaces whereby simple sentences are being used to express, poke fun at or simply laugh the daily grind." My message? 'IT WAS ALL A DREAM'. It's clear that at times the reality was being intertwined with imagination. I added pearls and a cool eye, an all-seeing eye.
Fue divertido perderse entre tanta joya, poder mostrar a Anton Heunis mis ideas improvisadas y tener hoy en exclusiva un pendiente mío de la firma.
It was fun to lose myself in so much jewellery, to be able to show Anton Heunis my improvised ideas and today have an exclusive earring of my own by the brand.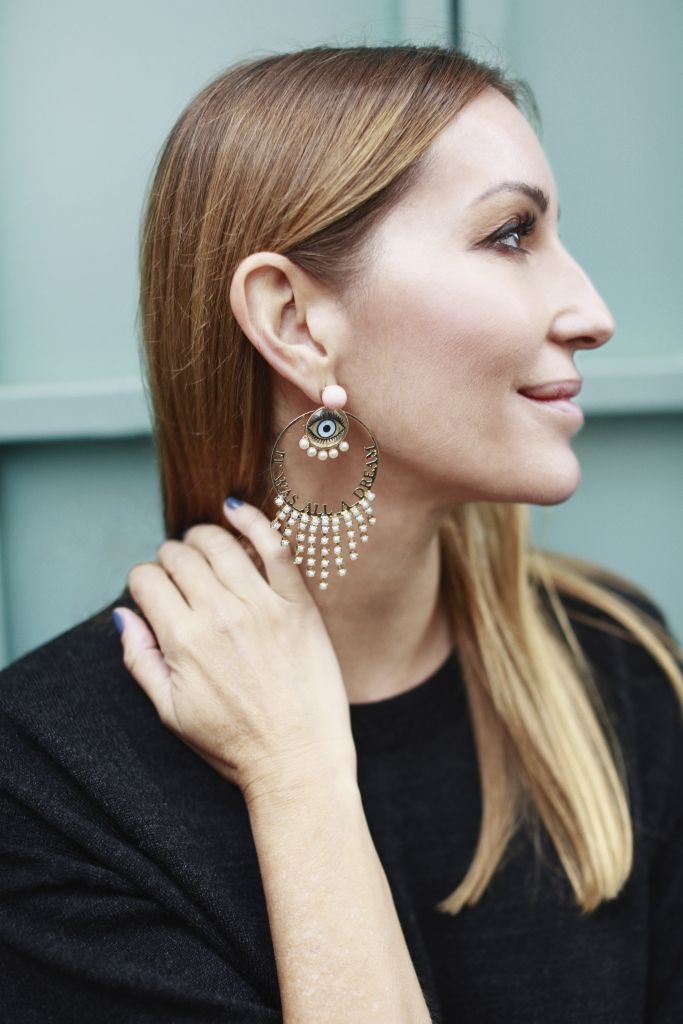 Gracias, Farfetch, por cuidarnos tanto y tan bien; por acercarnos al mundo de la joyería de la mano de Anton Heunis, y por regalarnos pasar por el objetivo del fantástico fotógrafo de moda y retratos Jorge Monedero, con el que tuve una química genial.
Thank you, Farfetch, for looking after us so much and so well; for bringing us closer to the world of jewellery courtesy of Anton Heunis, and for letting us take a glimpse through the lens of the fantastic fashion and portrait photographer Jorge Monedero, with whom I felt great chemistry.
No quiero despedirme sin recomendaros que echéis un vistazo a la selección de joyas de Anton Heunis para Farfetch, con piezas de su última colección dividida en cuatro series, cada una de ellas inspiradas en un tema: 1. Massai Warrior Queen, inspirada en la cultura africana, concretamente en la mujer Massai. 2. Yves Klein Blue, una adaptación del glamur de otra época a joyas contemporáneas creadas a base de perla ocasional y cristal claro que se han usado para armonizar con el fuerte color azul. 3. Saturday Night Fever, representa el espíritu de una época tan profunda como la de ?ebre del sábado noche, creando piezas versátiles de colores neutros. 4. MEME, la original colección con piezas en las cuales se usan frases sencillas para expresar, burlarse o simplemente reírse de la vida cotidiana.
I don't want to sign off without recommending you take a look at the selection of jewellery by Anton Heunis for Farfetch, with pieces from his latest collection split up into four series, with every one of them being inspired by a theme: 1. Massai Warrior Queen, inspired by African culture, more specifically the Massai tribeswomen. 2. Yves Klein Blue, an adaptation of glamour from another period to contemporary jewels created on a base of occasion pearls and light crystals that have been used in harmony with the strong shade of blue. 3. Saturday Night Fever, represents the spirit of such a poignant period as Saturday Night Fever, creating versatile pieces in neutral shades. 4. MEME, the original collection with pieces whereby simple sentences are regularly being used to express, poke fun at or simply laugh the daily grind.
Fotos: Jorge Monedero
Look: Pantalón efecto vinilo de Nº21 disponible en Farfetch / Vinyl slim trousers by N21 available on Farfetch.
Asistentes: Mypeeptoes – Paula Ordovás | All that she wants – Erea Louro | Cool Lemonade – Sheila Conde | Silvia Bosch |
Sígueme / Follow me
FACEBOOK | INSTAGRAM | TWITTER | PINTEREST