Tal y como os comenté el pasado 15 de febrero aquí, Dirk Bikkembergs estrena su temporada primaveral con una colección, 'Sport Couture', inspirada en Oriente. En concreto, en los elementos del mundo de las artes marciales y en sus líneas y patrones origami, que dan juego a interpretaciones según nuestro estado de ánimo.
From the Far East to Barcelona
Just as I told you here on 15th February here, Dirk Bikkembergs are kicking off their spring season with a collection called 'Sport Couture' which is inspired by the Far East. In particular, it's inspired by things from the world of martial arts and the lines and patterns by origami, which give rise to different interpretations depending on our moods.
Sea por el dinamismo que me transmite o simplemente porque me puedo permitir mezclar sobriedad -a veces sofisticación- con comodidad a diario, llevo una larga temporada viviendo y combinando la estética deportiva en mis 'outfits' 'non-stop'.
It may be because of the dynamism that it makes me feel or it might simply be because it allows me to mix sobriety –and sometimes sophistication- with comfort on a daily basis, I have been wearing and combining the sporty look for a long time 'non-stop' as part of my 'outfits'.
Por el doble juego visual; por la combinación magistral de color negro, blanco y rojo; por las rayas; y por el detalle discreto de las iniciales de la firma «DB» en tamaño XL grabadas en su frontal -no se aprecian porque son en color negro. Por todo esto, este jersey de manga corta de Dirk Bikkembergs se suma a mi lista de 'highlights' de temporada junto con mis amadas 'slip-on'.
Because of the double visual trick; because of the masterful combination of colours – black, white and red; because of the stripes; and because of the discrete detail of the XL sized initials of the brand «DB» on the front of them –they can't be seen very well as they're black. Because of all of this, this short-sleeved jumper by Dirk Bikkembergs has been added to my list of 'highlights' of the season with my beloved 'slip-ons'.
ELLE España edita: «En la carrera de las tendencias el 'look' deportivo siempre alcanza el podio de los 'must'.» Espero, chicas, puntuar bien en la clasificatoria.
ELLE Spain write: «In the race of the trends the sporty 'look' always reaches the top of the podium of the 'must haves'.» I hope, girls, to get a good score in the qualifying heat.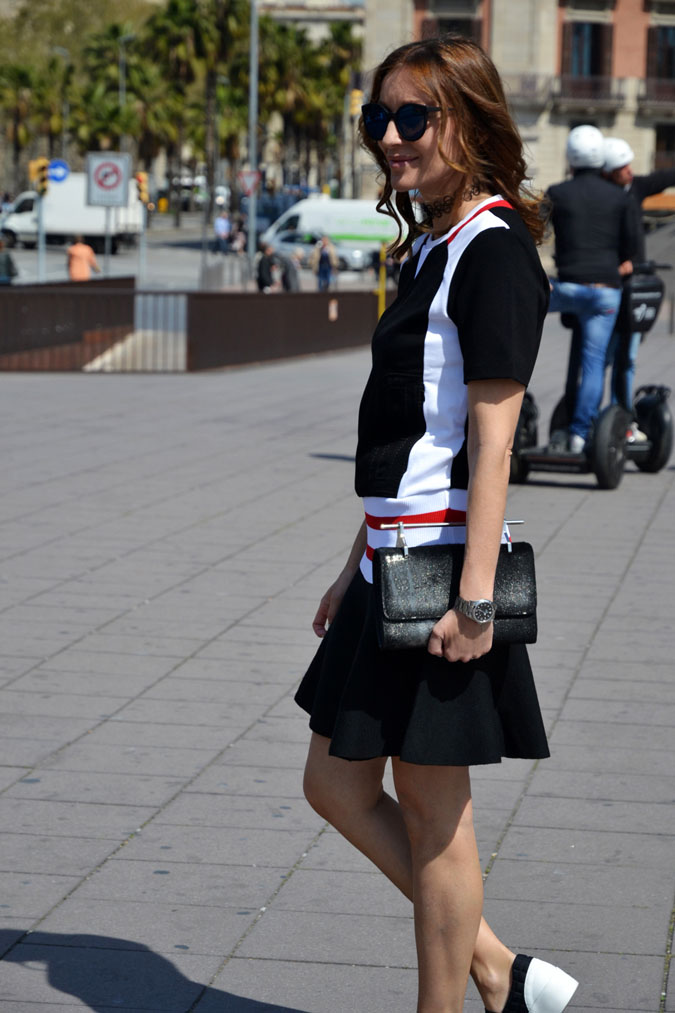 Jersey / Sweater y Deportivas / Slip-on todo de Dirk Bikkembergs SS16. E-mail: store.barcelona@bikkembergs.com Info: 934674935. Falda / Skirt: By Zoé para Tomates Fritos. Info: 932092617. Bolso / Bag: M2Malletier AW15 similar aquí. Gargantilla / Choker: Acne Studios SS16 aquí todo para Santa Eulalia. Info: 932150674. Gafas / Sunglasses: STARDUST Black Matt / Blue Mirror SS16 aquí de Spektre.
Fotos: Gorka González

Manicura / Manicure: Vanitas Espai. Info: 933682555
Cosmética Facial / Face Cosmetic: Sepai. Cosmética Corporal / Body Cosmetic: Twelve Beauty. En Barcelona de venta en  JC Apotecari.
Cosmética Capilar / Hair Cosmetic: Leonor Greyl.
Colorista / Colorist: Olivier Besseau. Peluquero / Hair Stylist: Damien Ducorney para L'Adresse.


Sígueme / Follow me
FACEBOOK      INSTAGRAM     TWITTER    PINTEREST