I think I may have told all of you before about the feeling of having rougher skin after the summer. Specifically throughout the month of September. It's clear that chlorine, the sun, the sea, excessive heat, etc., affect my skin by toxifying it.
Little by little with appropriate care my skin gradually transforms itself by getting its softness back. I don't expect miracles nor false promises, girls, nor photoshopped skin. I want clean and hydrated skin, a skin that's free from impurities and is healthy. I sincerely believe that glowing skin can take years off you.
Among all of the new cosmetics that I have tried out at home, I recommend you try out the triple action treatment mask "Glacial White Caviar" Hydra-Pure Oxygen Masque by Miriam Quevedo. It is a detox mask that oxygenates and repairs all skin types, in particular dehydrated ones. Try them, in order to see and believe. It's super effective!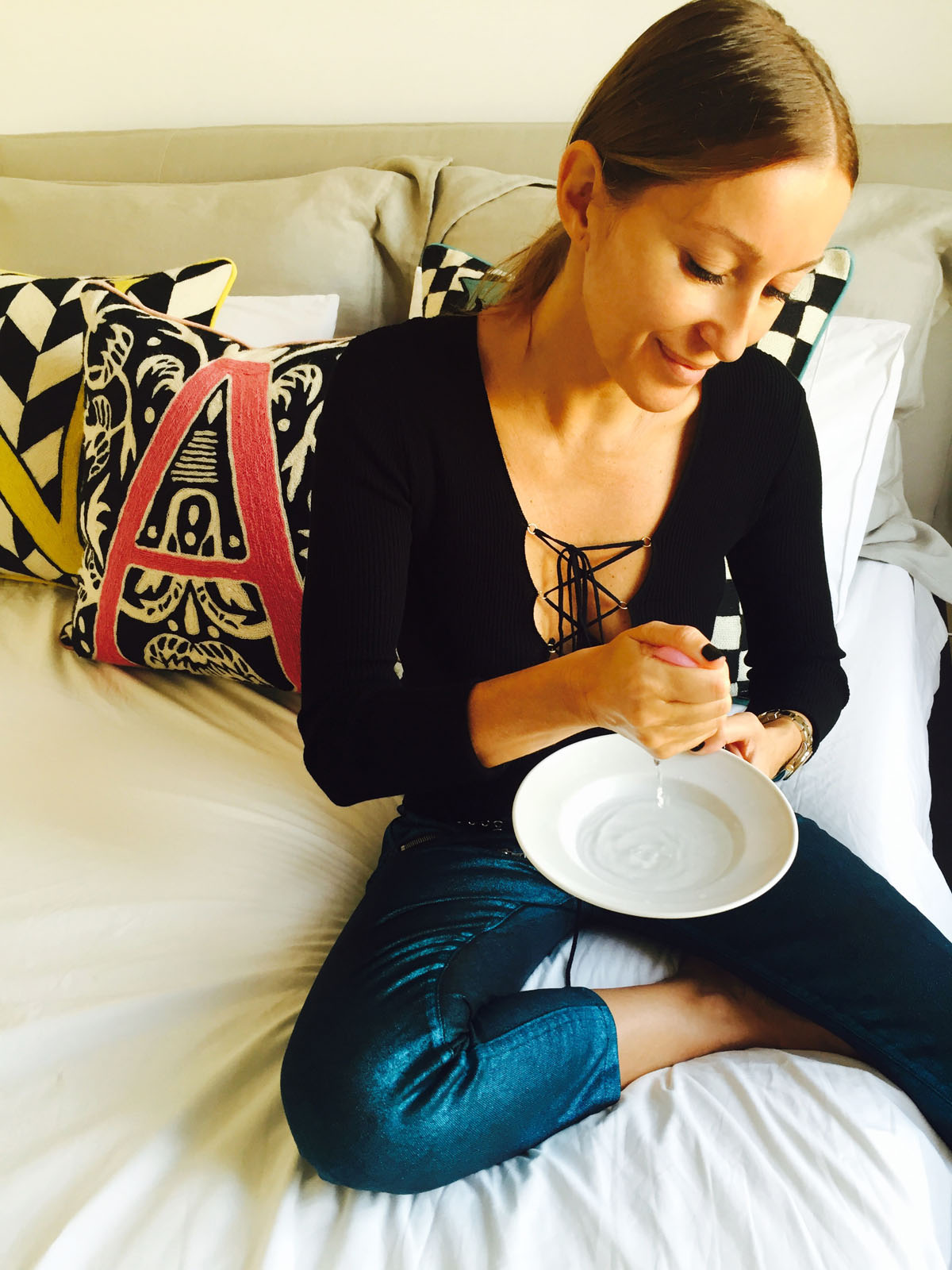 It is made up of oxygenating technology that foams up into oxygen bubbles on contact with the skin. It's an ultra-refreshing sensation, like having Pop Rock son your skin. That cooling sensation on your skin – it relaxes and calms even the most sensitive and delicate skins.
Its application helps to eliminate and detoxify the skin of impurities accumulated during the summer. Its use usual improves the protection of our skin against thermal shocks of cold or heat; it prevents dehydration and maintains the skin with the ideal content of water at each moment. It protects the cells against the damage of UV rays and environmental exposure. It also helps us in the process of regeneration of the skin with ultra restorative properties, and it increases their levels of hydration revitalizing it and recovering the energy levels of even the dullest looking skin. Thanks to the combination of revolutionary active ingredients, it reduces signs of ageing of our skin, it reduces the amount of wrinkles and it unifies the skin tone.
Its application is very simple: you have to apply a thick layer onto cleansed and dry skin. Let it work for between 3 and 5 minutes so that the oxygen bubbles are fully activated. I leave it on for 10 minutes, just to be on the safe side! Then gently massage your skin in a circular motion with your fingertips until the oxygen bubbles have been activated. Finally, you need to rinse it off with warm water.
We are advised to use it from two to three times per week. The result is incredible, the skin looks ultra-glowing and detoxified, I would say that it's very plumped out. And, in addition, all the products, which we apply 'retrospectively', are absorbed much better thus boosting its benefits. I am talking from experience.
For those of you who may be interested, take note: by entering the promotional CODE GWCMARIONA when purchasing a GWC Oxygen Masque by Miriam Quevedo, you will get a free gift of the complimentary Glacial White Caviar mini-ritual skincare, which includes a silver beauty bag, facial bandeau, sponges, mask brush applicator, 7ml Glacial White Caviar Recovery Serum, and 7ml Glacial White Caviar Precious Cream.
If you get your hands on the mini-ritual free gift, here is a step by step guide for its use: 1. Apply the facial bandeau in order to uncover your face and protect your hair. 2. Cleanse and tone. 3. Detox with the Oxygen Masque facemask. 4. Protect your skin by applying the anti-ageing treatment serum Glacial White Caviar Recovery Serum. 5. Hydrate and prevent ageing by applying the rejuvenating cream Glacial White Caviar Precious Cream.
*All of the photos have been taken with a freshly cleansed face while the treatment was being carried out. For me it was important to be able to show you how glowing my skin is after doing so. I'm only wearing my eyelash extensions, and in the last photo, a slick of black eyeliner on my eyes. Nothing else.
Miriam Quevedo.  Glacial White Caviar Hydra-Pure Oxygen Masque here. Info internacional: 0034 938443994.