On 19th May we were in Madrid to attend the presentation of the new and innovative hair care line by Miriam Quevedo, Glacial White Caviar Resort Collection, which is specifically designed to combat the harmful effects caused by the elements: the sun, air, sea water and chlorinated water.
"Extreme weather conditions, which we often experience during trips, can alter the natural rhythms of our hair and scalp causing dehydration, lacklustre and lifeless hair, that's also prone to breakage and premature ageing of the hair is accelerated. Hair that is overexposed to these conditions requires exclusive care that can give it a boost by rehydrating and protecting it", Miriam Quevedo says.
In her continuous line of research (she has her own I+D team) in order to create 'premium' high performance products that are extremely effective using active ingredients in high concentrations and working under high quality control practices, Miriam Quevedo is going one step further by presenting revolutionary advances in the Glacial White Caviar Resort Collection.
We are talking about a line that combats the six signs of ageing: signs of free radicals and oxidative stress, signs of photo-ageing, signs of an accumulation of toxic waste substances, signs of thermal ageing, signs of 'imflammageing', and signs of wear and tear, working with the same visionary technology like Glacial White Caviar and, at the same time, it protects and defends the hair against the harmful effects caused by the elements. It is a really luxurious line, girls, thanks to the quality of its formulations, which is what matters to me personally. I look for effectiveness, and with Miriam Quevedo I always have it.
In Glacial White Caviar Resort Collection four products are presented: Cleansing Balm, Leave-in Conditioner, SPF 30 Dry Oil for Hair and Body and Beach Waves.
You all know that I like trying things out being giving my opinion on any beauty products, and this time wasn't going to be any different. At the presentation, Miriam Quevedo offered the attendees the chance to put themselves in the hands of the team of stylists from the Raúl Aguilar Method team in order to try it out 'in situ'. I was delighted to accept! The stylist Raúl Aguilar uses all of the lines of products by Miriam Quevedo in his beauty salon in Torre Del Mar, Andalucía. His main premise is being natural, moving away from any artificial or supposedly sophisticated styling. It was obvious that we were going to get on well.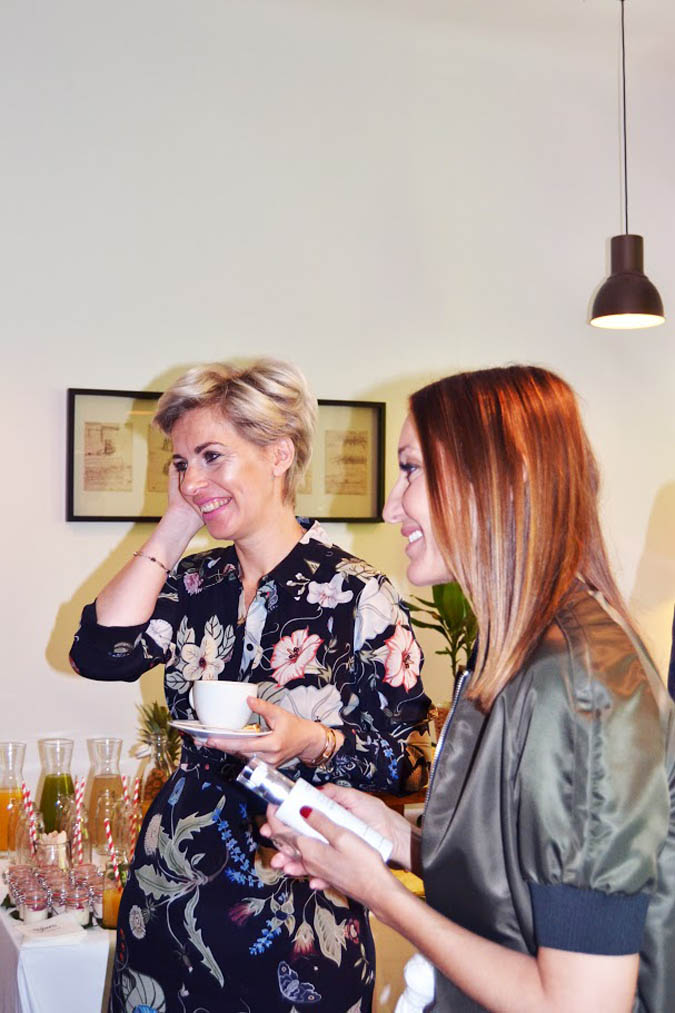 Raúl washed my hair with the new Resort Cleansing Balm, a cleansing balm with an ultra-rich texture that gets rid of product build-up and dirt, making the hair and scalp optimally hydrated and providing it with profound anti-ageing benefits. At present I apply it a couple of times a week in order to repair my hair from the aggressions that are caused by the chlorine in the swimming pool and, at the same time, getting it ready for the summer.
I apply the new Resort Leave-in Conditioner to wet hair, a leave-in conditioning mist which can be applied to wet or dry hair. It gets rid of frizz, it works as a heat protector and it makes brushing it easier. I apply it every day and it leaves my hair extremely soft. It's fantastic.
And finally, to finish off, we decided to try to enhance the effect of one of the new star products, Resort Beach Waves, a texturiser with sea-foam which adds volume and body to your hair for an ' after beach surfer ' look. The result is a tousled, wavy effect. Raúl applied it to my wet hair after the Resort Leave-in Conditioner, and dried my hair enhancing its waves. I've applied it to wet hair without blow drying it afterwards to see its more natural effect. In fact, it helps me to show off an 'after beach' look and on top of that with the cocktail of powerful antioxidants, proteins, peptides, amino acids and vitamins that make up its formulation, it helps me to reduce the signs of ageing of my hair.
I will keep you up-to-date with every little detail of my personal experience with the new Glacial White Caviar Resort Collection cosmetics line by Miriam Quevedo.
I don't want to sign off without thanking Miriam Quevedo and her team for the fantastic reception that we had in Madrid, as well as the Raúl Aguilar Method team for their good advice and attention. It was a pleasure to share the morning with you all.