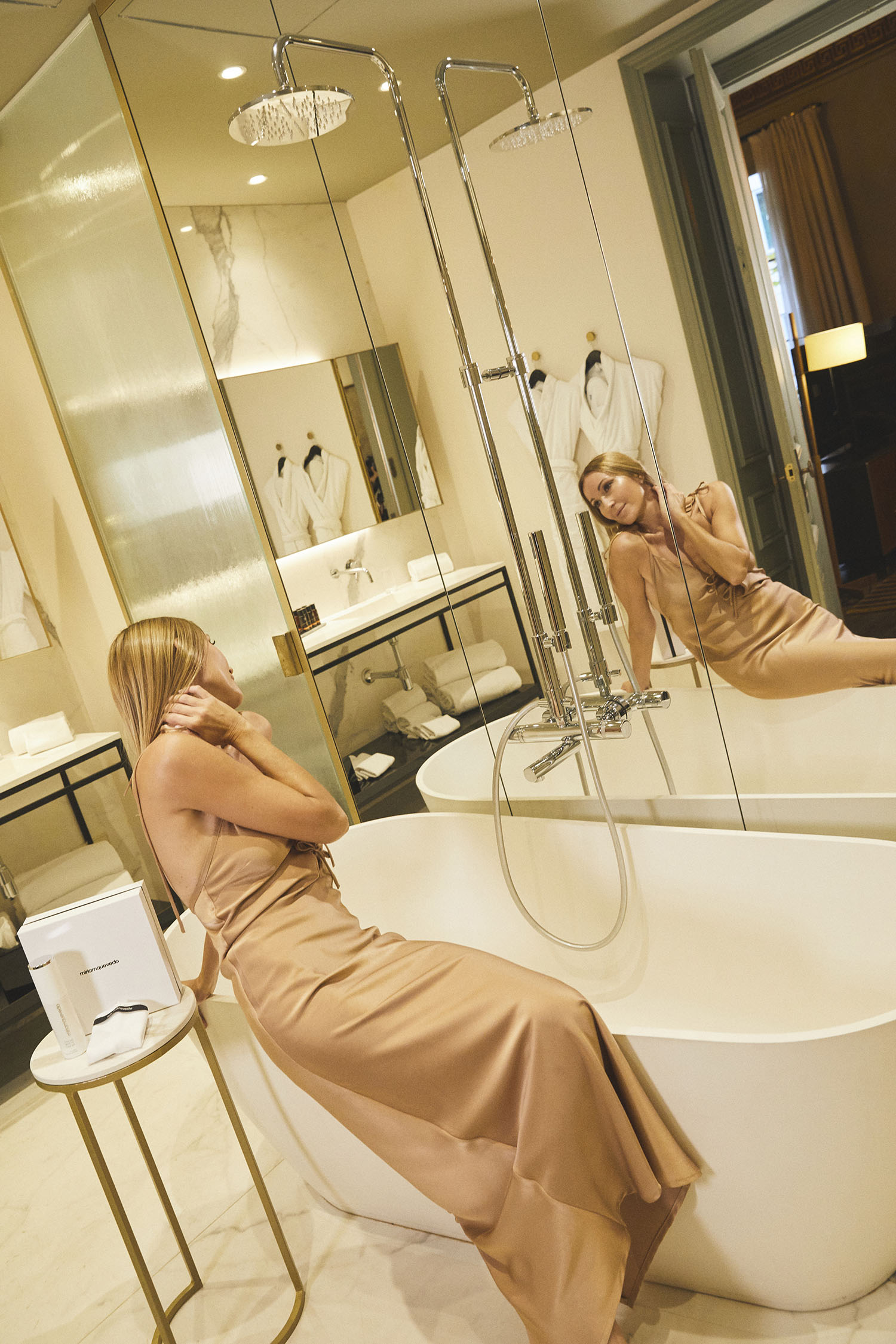 Whenever we hear about the Spanish brand Miriam Quevedo, we cannot help doing anything more than learn. With its own laboratory and R+D facilities in Barcelona, Miriam Quevedo is like an encyclopaedia of advanced beauty and how to combat it. This innovation forms part of the DNA of the brand that, combined with precious active ingredients and avant-garde scientific research, they are able to create powerful formulas that offer up tried-and-tested results without any precedents for the skin, hair and scalp. I can vouch for that!
Its super well-known Skincare Glacial White Caviar line – the own brand line, as I call it –, that combats the different theories of ageing at a cell level (pollution, free radicals, digital ageing (blue light, infrared), photo-ageing (UV rays), wear and tear and accumulation of toxins), incorporates a new innovative product, Glacial White Caviar Precious Cleansing Foam, the first foam format active cleanser by Miriam Quevedo that oxygenates, purifies and eliminates impurities and leftover make-up, at the same time as boosting soft exfoliation, even for the most sensitive of skins.
What is so special about this new cleanser? It does not only deeply cleanse the skin but rather, thanks to its exclusive 18 precious active ingredients and its anti-ageing technology, is an indispensable gesture in our beauty routines to combat ageing.
How to fight against ageing? It incorporates an innovative system of oxygen supply without any ROS (without any robotic nor machine-led manipulation) that combats the drop in oxygen levels that come about with age (50% at 40 years old) and that directly contribute towards the reduction of collagen, elastin and hyaluronic acid synthesis and towards the slowing down of skin regeneration. In addition, it is enriched with the exclusive microbubbles by Miriam Quevedo, that appear in their Oxygen Masque and boost oxygenation and give a micro-massage in order to stimulate cellular microcirculation and respiration. Its advanced formulation, which is free from sulphites, and its exclusive combination of white caviar extract, Swiss glacier water and more than eight precious botanical ingredients, allows for the skin to be moisturised and softened, giving it powerful antioxidants and vitamins to combat oxidative stress, to defend against pollution and reduce signs of ageing.
Its virtues: It provides mild yet intense cleansing, respecting the protective layer of the skin and its essential fatty acids. With regular use it restores the skin's own softness for healthy and glowing skin. It helps to provide more luminosity and to improve skin tone. It improves skin texture and reduces the signs of fatigue. It prepares the skin to receive the post treatments. It calms and moisturises the skin, boosting optimal elasticity that eliminates skin tension. And, it also combats the main factors of ageing like: free radicals, photo-ageing, accumulation of toxic waste, thermal ageing, pollution, inflammation and wear and tear.
Cleansing the skin well is the most important beauty step. Cleansing our faces too much or too little, doing so just with water or without having washed our hands, are common slip ups when it comes to helping us to keep skin clean.
Let's look after our skin well at home; it should not be seen as a treat, it's a necessity. I choose the hard-hitting formulas with proven results by Miriam Quevedo who are also champions for the free sustainable development of poisonous ingredients. Let's take care of the planet and support the community with responsible consumption and respect for nature.
Photography: Patricia Bonet.
Location: Hotel H10 Casa Mimosa.
Production ans styling: Mariona Planas.
Dress: Vagary Kalon.
Hair and mke up: Núria Ribera.
Woodlights and manicure: Vanitas Espai.