"They say that, for an action to become a habit, you must repeat for, at least, 21 consecutive days; in this way, it is incorporated into your everyday life as if it were nothing". Good. Every law has a loophole. Today we are debuting the new 'FOOD' section by the well-known fashion photographer Sergi Jasanada, who in his long career has lent his name to Adidas, Andrés Sardá, Bershka, Breil, Emilio Tucci, Jagermeister, Laserre, Mango, Margaret Astor, Rabat, Reebok, Rimmel London, Rosa Clarà, Santa Eulalia…, and editorials for B- guided, ELLE, Magazine La Vanguardia, Metal and many more… A true aficionado of eating well, I am sure that you will fall in love with his delicious recipes by "cocinaDsastre", without needing the aforementioned 21 days to introduce it into your kitchens and into your lifestyles.
We are kicking off with a simple, light and appealing recipe, after several days of copious amounts of Christmas food, that will satiate even the most demanding of palates and even the gourmet spirits who are reluctant to giving up on good habits: marinated salmon.
For 8 people.
Difficulty: low.
Cooking time: Barely 10 / 15 minutes (+ 1 day and a half or two to marinade it).
Ingredients:
For the salmon:
– 1 salmon loin (skin on and boneless).
– 8 lychees (just the white fleshy parts).
– 1 handful of blackberries.
– 1 handful of blueberries.
– Between 200 and 300 g of sea salt flakes.
– 2 spoonfuls of brown sugar.
– 5 or 6 juniper sprigs, and a teaspoonful of ground pink pepper. *Any other type of pepper is valid. For example: Allspice.
– 40 ml of gin.
– 2 spoonfuls of rose water. *This is the secret that makes the difference.
– Fresh dill in abundance.
– Rind from a small lemon.
For the mayonnaise:
– 1 whole egg.
– 150 ml of olive oil.
– 1 big handful of dill leaves.
– A few drops of lemon juice.
– 2 or 3 pepper grains, preferably red pepper.
– A few drops of rose water.
– A pinch of sea salt flakes.
Cooking method:
We break up the dill by hand making it as small as we can, we lightly moisten the berries and the pepper, and we add them to the lemon rind.
We place the fruit in a container along with the sugar, ginger and rose water and we blend it gently in the food processor, just enough to achieve a lumpy texture that is not creamy. We add the dry ingredients to the mixture.
We place the salmon in a container that is not much deeper than the space the fish takes up from bottom to top, and we put a lid on our mixture. We give it a light rub, we cover it up with cling film, and we keep it in the fridge for at least a day and a half, 2 days maximum. The longer you leave it, the saltier it will taste when done.
Having waited for the marination time to pass, we wash the salmon for barely a few seconds just to rinse off the leftover salt, we dry it well, and we serve it straight away with a knife next to for it to be cut it in slices while we eat it, or we go ahead and cut it into nice thin slices.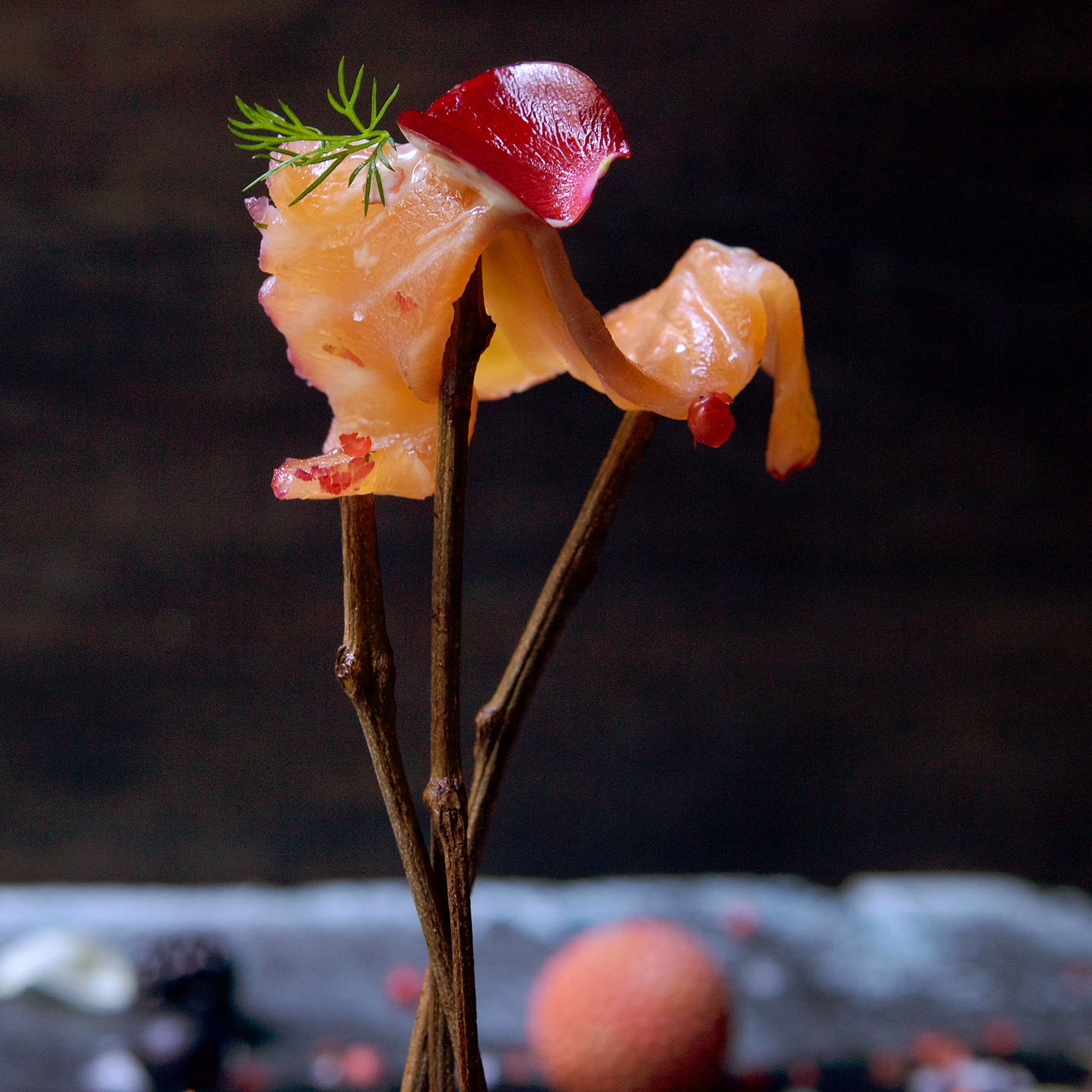 We whisk up the mayonnaise with its ingredients as an accompaniment for the salmon. *Ingredients can be added or modified according to individual tastes and preferences.
To finish up, some small slices of toast made with a good bread as a side dish for the slices are perfect. A foolproof classic, as well as any type of pickles.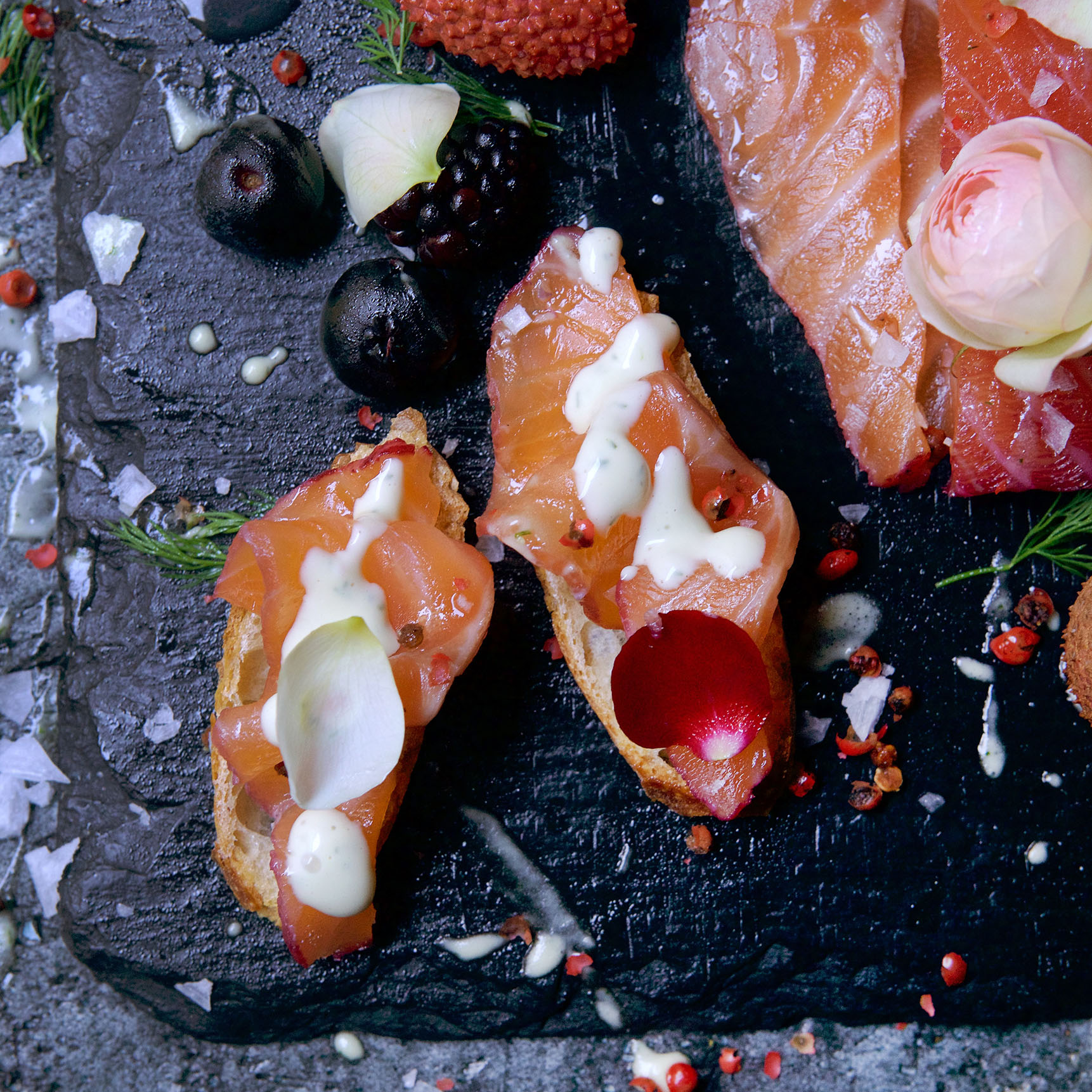 Photos and recipe: cocinaDsastre.
Diario de Estilo's perfect tipple of choice: Llanito Perera 2016. With this white wine you will pick up on all of the volcanic notes from the Canary Islands, the most unique wine region in Spain (€25.95).