For 4 people.
Difficulty: medium/low.
Cooking time: Around 30 minutes.
Ingredients:
– 1 very fresh truffle of approx. 30g.
– 100g of grated Parmesan cheese.
– 300g of rice*.
– a generous handful of seasonal oyster mushrooms**.
– 1 glass of white wine.
– 1 diced red onion.
– 2 cloves of crushed garlic.
– 4 soup spoonfuls of EVOO (extra virgin olive oil).
– 1 litre of chicken broth, or vegetable for vegetarians.
– (optional) 2 soup spoonfuls of concentrated meat broth.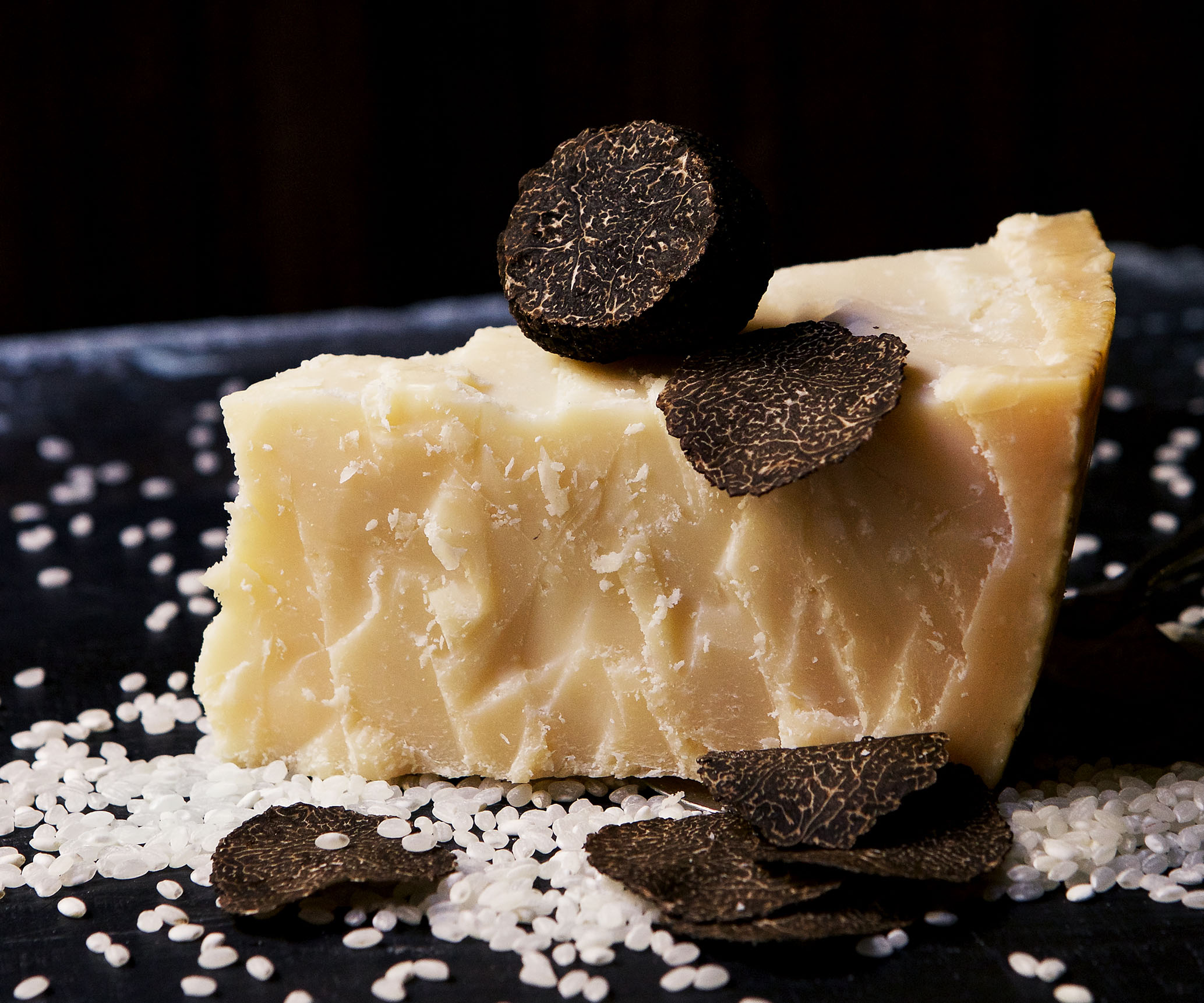 Cooking method:
Put the broth to heat over a medium heat and we turn it down when it starts to boil keeping it covered at all times. The important thing is that it does not stop boiling for when we need it: in the risotto, unlike other types of rice dishes such as paellas, the broth is added as it evaporates in the cooking pot, spoonful by spoonful.
In a low, wide pot, or a high-walled frying pan, we poach the onions and garlic with the EVOO (extra virgin olive oil) over a rather low heat until they become transparent, about 6-7 minutes. Turn up the heat and add the chopped mushrooms (except the truffle), season them with salt and pepper and stir fry them until they start to pick a slightly golden hue.
Add the rice and continue to stir fry the mix continuously for 2 minutes so that the rice is soaked in the flavours and oils alike. Add the glass of white wine, half the grated Parmesan and a third of the also grated truffle, we stir it for a few seconds and then add a couple of soup spoonfuls of boiling broth and concentrated meat broth if we choose the carnivorous and classic risotto option***.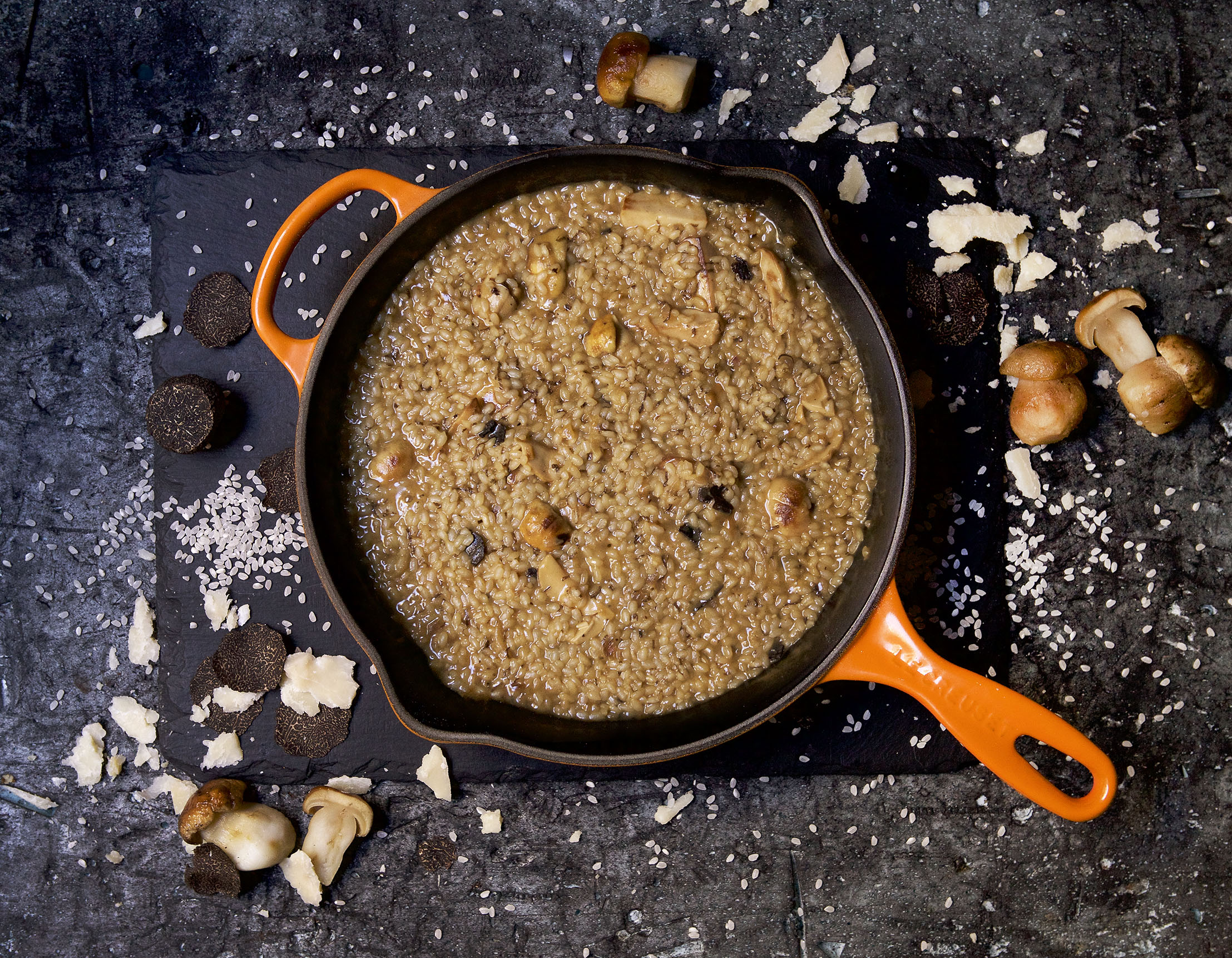 The process from then on throughout the cooking time is the same: when most of the liquid in the risotto pot has evaporated, we add one more soup spoonful of the broth that we keep boiling over a low heat. In total it will be about 15 or 16 minutes, always depending on what type of rice is being used. In any case, when we notice that when biting the grain, it is cooked but still kept "al dente", it will be time to take it away from the stove. Add the rest of the Parmesan, a little more of the fresh truffle, we season to taste with salt and pepper and let stand for up to 5 minutes.
We stir the whole mixture and serve it by adding some very thin sheets of truffle in abundance on top of each dish (it is important to use a good truffle shaver or a good quality slicer that allows us to create slices almost like the thickness of the smoking paper).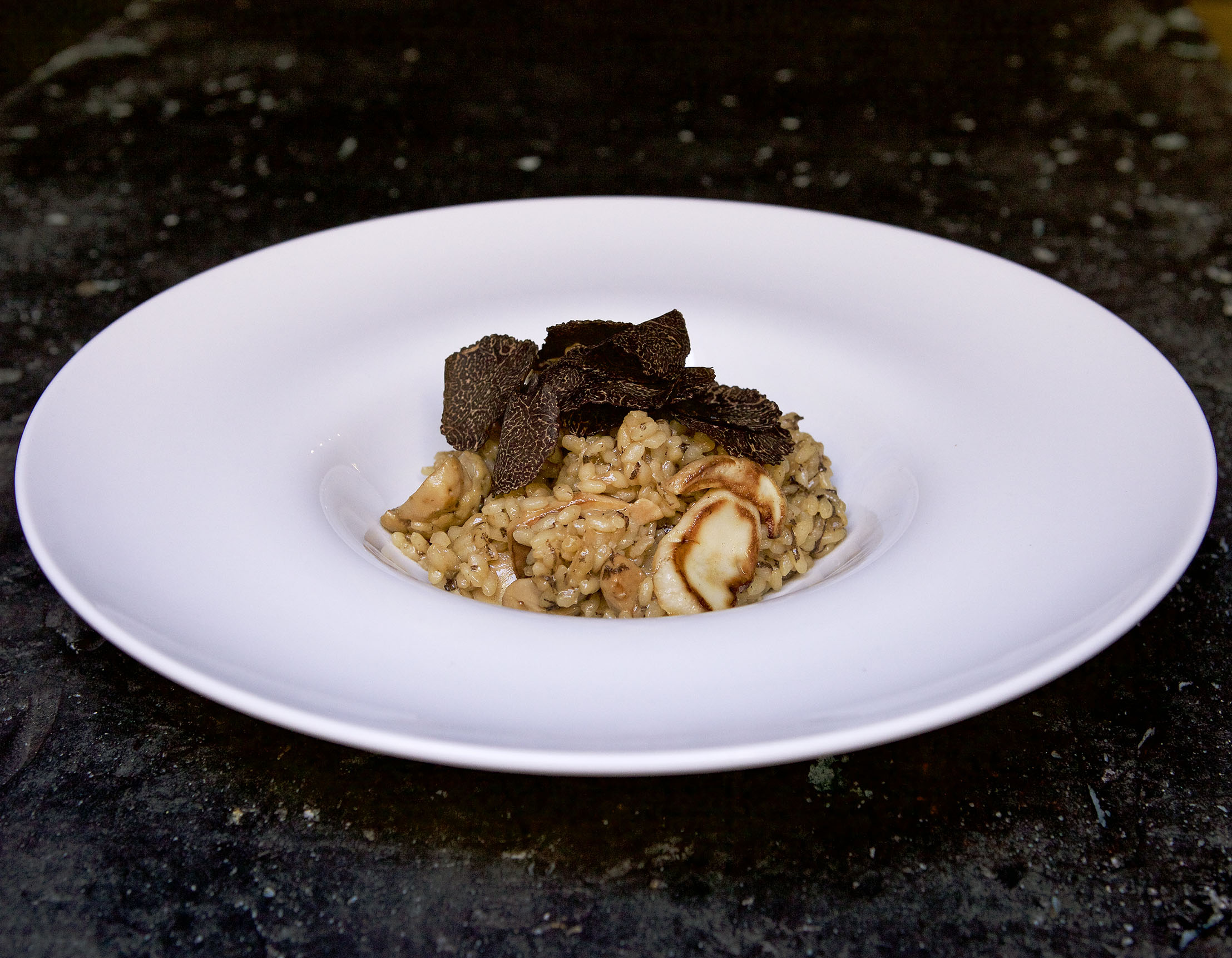 Notes:
* Rice should be of "arborio" type, which is special for risottos, or a good white rice in its place. I must confess one of my "culinary profanities" here: I use a good quality special rice for "sushi" and the results are amazing!!
** Obviously porcini (ceps) is not in season in late winter, of course, but such frozen oyster mushrooms enhance their flavour if they are thawed at room temperature. In fact, I always use them frozen, even in their day, when I add them to broths with stock, as in this case.
*** In the latter case I always have them frozen in cubes a home-made meat broth with leftovers of beef and poultry and some vegetables to which I add about 5 litres of water and that I keep simmering for about 10/12 hours over very low heat. The result is a dense and very tasty broth, ideal to add to the risotto (1 small cube is enough) or even to deglaze a paella where we have cooked some meats incorporating a couple of tablespoons of cooking cream once the ice has been diluted and letting it boil for a few seconds. The resulting sauce will make your sad grilled chicken breast (for example) worthy of a great menu in a good restaurant…
+ Did you know that the edge of the Parmesan cheese wedge that ends up being dried out in the corner of the fridge and that is always crumbly? Well, add it whole to the risotto when sautéing the rice and forget about it in there, it boosts the taste and flavour of the final result.
+ It seems difficult and very laborious but once you take in the techniques it is even easy to prepare, do not hesitate to get to work. You cannot last a whole weekend without your risotto.
+ Of course, you do not need truffles to make a good risotto. The 2 basic things are the rice and the Parmesan cheese, the rest is just imagination and fun.
+ And one last trick: Have you got any traces of truffle left, some grated bits? Put some farm eggs (hen, goose…) in an airtight container along with that leftover truffle and keep them for a few days at room temperature (a stove on a low heat is ideal). The eggshell is porous, and the aromas will permeate its interior. You'll see what an amazing taste it is when you grill or fry them with some potatoes. Enjoy your meal!
Photos and recipe: cocinaDsastre.