I was born into a family whose life revolved around the table. Great-grandmother, mother, brother, all cooks. At home, good food and table talk have been a symbol of life. So, you will understand that having the opportunity to decorate an autumn table for the prestigious Portuguese porcelain, glassware and decorative items firm VISTA ALEGRE was a true satisfaction for me.
The challenge was a real pleasure. I went to their shop at 467 Avenida Diagonal in Barcelona and chose the crockery, cutlery and glassware that autumn inspired in me. I invite you to visit the store; it is truly magnificent. It has a surface area of 250m2 distributed over 3 floors, where you can discover and enjoy Vista Alegre's new collections first hand.
Vista Alegre produces tableware, decorative china, gift items and crockery for the hotel and catering trade, high quality glassware, and also 18/10 stainless steel cutlery, combining styles ranging from the most classic to the most contemporary to suit a very wide range of consumers.
"Vista Alegre's most traditional collections coexist with a strong modern component, resulting in countless designs signed by internationally renowned creators such as Carsten Gollnick, Sam Baron, Karim Rashid, Joana Vasconcelos, Roberto Chichorro and Christian Lacroix, among many others."
Many leading names in contemporary design, painting, sculpture, architecture, literature and other art forms have contributed their talent to special creations. Moreover, Vista Alegre can also make customised pieces to order.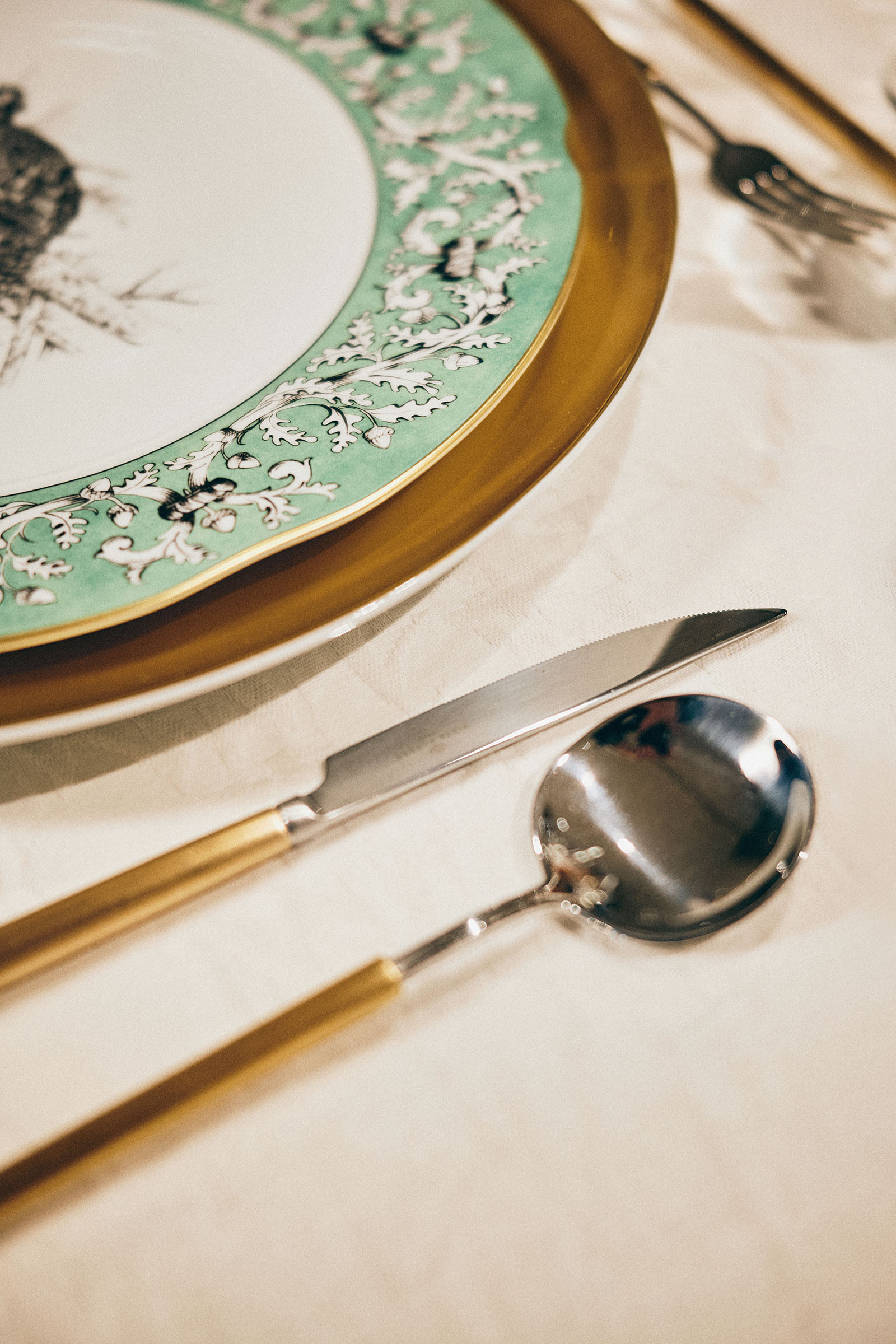 Among the distinguishing features that most attract me to the Portuguese firm are the new artistic projects such as 1+1=1, 2i – Ilustradores Internacionais and Projeto Artistas Contemporâneos; as well as the creation of partnerships with the best chefs in the world for the development of tableware products for the hotel and catering industry and the production of numbered and limited edition items, etc. I would highlight their gift section, where you can find both classic and contemporary items to offer as gifts for special occasions, and the work of their 17 hand painters responsible for the decoration of some of the items, and this is where the starting point -my choice- for the creation of my autumn table for Vista Alegre comes into play.
It was quite clear to me: I fell in love with the crockery that Vista Alegre and the Casa de Alba —one of the most important aristocratic families in the world, whose origins date back to the 15th century— had created together, combining history, excellence and authenticity.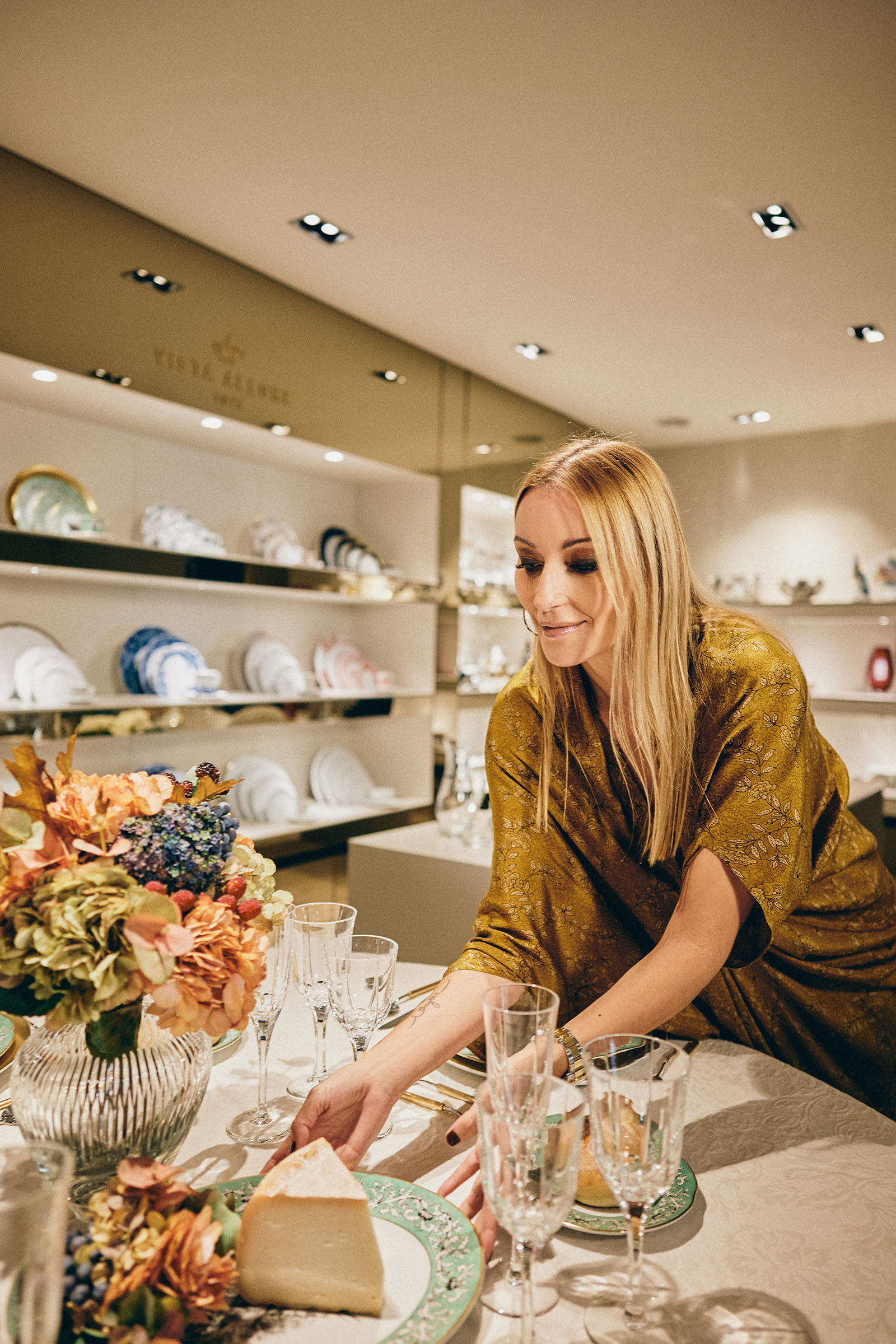 I liked the mix of tradition and avant-garde, the detailed decoration of each items: the fuzzy green background, the grisaille giving new life to countryside animals whose drawings belong to the Vista Alegre archive, the borders decorated in gold thread, and so on.
This was followed by the Domo Gold presentation plate and the Domo Handle Mattgold cutlery, for their gold and golden details, the glass vases from the Crystal Garden collection for their geometric carvings designed around simple, modern shapes, and the Lyric crystal glasses for their romantic, floral shape finely decorated by Vista Alegre's glass cutters.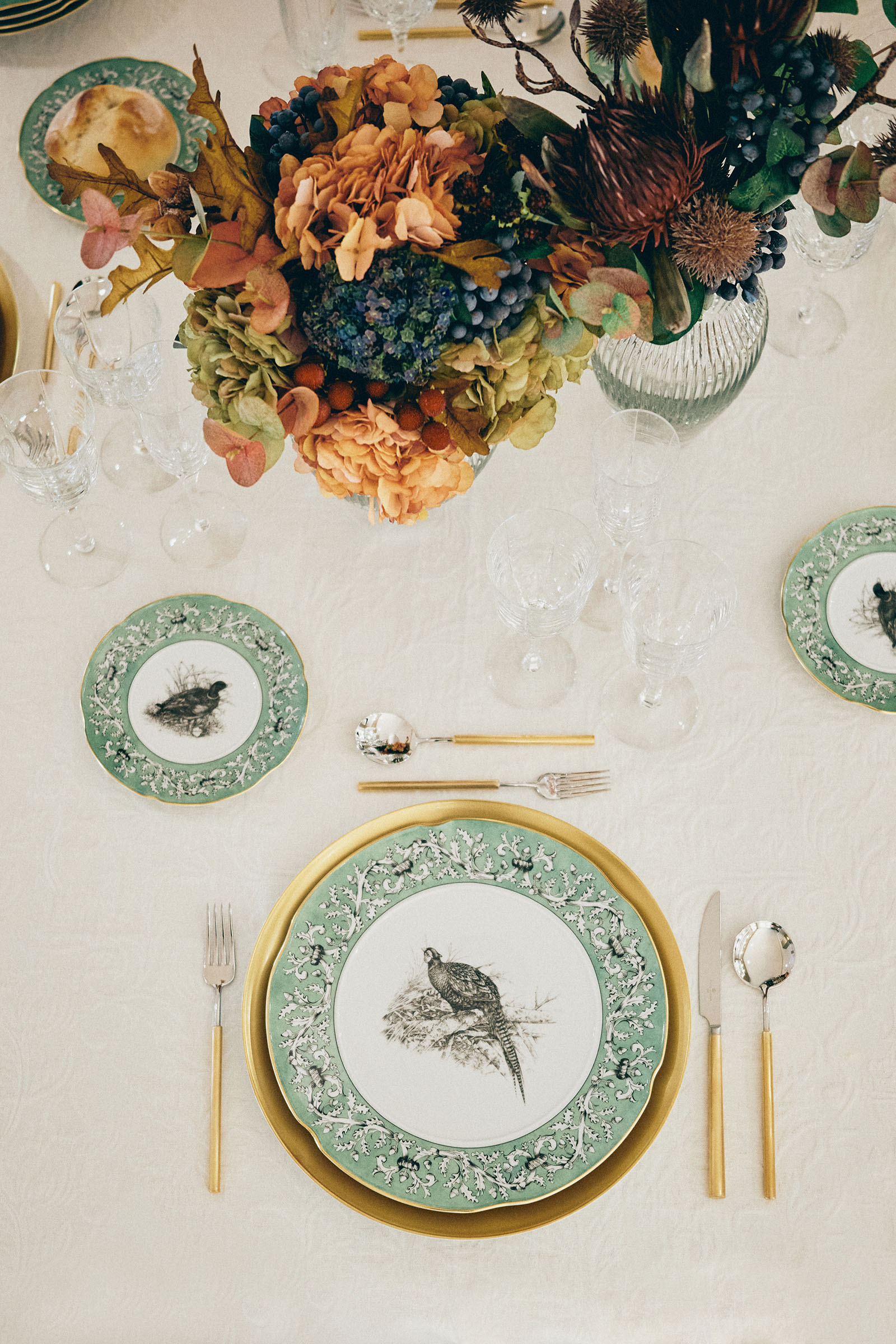 Design, art and culture have become the hallmarks of the Portuguese firm, together with essential values such as refinement, sophistication and versatility. Vista Alegre has managed to progress in harmony with the culture of its time, projecting it universally through products that reflect the latest design trends, manufactured in accordance with the highest standards of quality and functionality.
The china factory was founded in 1824, in Aveiro (Portugal), and has always been closely associated with Portuguese history and cultural life.
In 2001, the Vista Alegre Group (porcelain, earthenware and stoneware) merged with the Atlantis Group (handmade, high-quality glassware), creating one of the largest tableware and giftware groups in Europe: they formed the largest national tableware group and the sixth largest in the world in this sector. The resulting holding company is active in areas as diverse as tableware, decorative and hotel china, earthenware, bakeware, handmade glassware and retail chains and distribution.
Vista Alegre's services are officially used by royal houses, such as the Spanish, British and Dutch. They are also used in official embassies around the world, as well as in the White House and by the President of the Portuguese Republic.
Throughout its history, Vista Alegre has won many prestigious awards for its focus on innovation, design and art. Specifically, in recent years it has been awarded more than 40 design prizes and distinctions, always linked to the elegance and savoir faire of the Portuguese firm.
Photography: Jon A. Herrera.
Location: Store Vista Alegre Av. Diagonal, 467, Barcelona. Info: 93 488 58 10.
Production, creative idea and styling: Mariona Planas.
Makeup: Núria Ribera.
Hair: Vanitas Espai. Manicure: El Salón by Aura Institut.