In the middle of the 21st century, the chronological age has lost its power to define and limit us. The new beauty trend is going for being in physical, psychic and spiritual harmony with ourselves. Many of us aspire to have a healthy, glowing and even skin tone, and we reinforce this by defining and trying to maintain good habits (food, sport, lifestyle…) and fitting in personalised cosmetic solutions.
As María R. de Ribera wrote in 'Vogue Belleza' ("Vogue Beauty"), "Looking after your skin is not, nor much less, an act of vanity, but rather a question of physical and psychological health". "It is one of the most important organs in the body, with a wide range of functions. In constant interrelation with the rest of the organism, it serves as an intermediary between the world that surrounds us and our interior. It is also considered to be a first protection barrier that shields us from the various external aggressions, at the time that it possesses immunological defensive properties (chemical cells and substances that are coordinated with defensive functions)", as shown by the AEDV ("Academia Española de Dermatología y Venereología" / "Spanish Academy of Dermatology and Venereology").
Based on the trend of well-ageing – which is simply a case of ageing well – a new term when it comes to the future of skincare has been coined: ongoing beauty (beauty that adapts).The cosmetics brand Miriam Quevedo, internationally known for being one of the beauty brands that specialises in skin and hair care with high-performance anti-ageing lines, with their own laboratory and R+D facilities in Barcelona, and with innovation being their trademark, based on the aforementioned term have added a cult face mask to its BLACK BACCARA range called Black Baccara Global Perfecting Velvet Mask, which offers a personalized cosmetics solution that promotes the recovery of cell rhythm, energy and longevity which are responsible for helping to avoid the premature appearance of the visible signs of ageing. Let me explain.
It is a perfecting mask with white clay, micro-encapsulated activated charcoal and the powerful concentrate of Black Baccara Roses de Miriam Quevedo that minimises pores, smoothes out the cutaneous micro-relief and blurs out imperfections.
It's an intensive anti-ageing and anti-stress mask for all types of skin, that combines the revitalising and energizing properties of white clay with the cleansing properties of charcoal. The rich mineral content that its formula contains improves the firmness, reduces wrinkles and minimises pores for an even finer and more rejuvenated face. In addition, it is made up of an exclusive system of three lipids (avocado oil, olive oil, organic argan oil) that give the skin an extra long-lasting hydration boost.
With regards to its active ingredients:
Rare Black Baccara Rose Youth Concentrate . It detects the exact needs of the skin and it adapts to them thus creating an ideal microenvironment to add the necessary protection against internal and external stress. It regulates the cellular watch that can be altered by our lifestyle, rejuvenating the natural rhythms of the genes at a cellular level.
White Clay. Rich in minerals that have a revitalising and energising action, this ingredient improves skin firmness and reduces the appearance of wrinkles, at the same time relieving and reducing the pores.
Fractionated Hyaluronic Acid . A unique combination of thousands of molecular beads that work at all levels of the skin to improve its level of humidity and elasticity, as well as strengthening the skin's barrier. Expression lines are diminished, the amount and depth of wrinkles are reduced, and the skin looks and feels softer and plumper.
Micro-encapsulated activated charcoal . With a high power of attraction and absorption of residue and blemishes, it removes chemicals, dirt and other microparticles from the skin, leaving it cleansed and free from imperfections. Its micro-encapsulated formula is activated by softly massaging and boosting the effects of this super mask.
Avocado Oil. Rich in fatty acids, vitamins (A, D and E) and sterols, it softens the epidermis, restores the barrier function of the skin and nourishes the different epidermic layers in depth thus helping to break up the cycles of peeling. Antioxidant and anti-free radical function.
Olive Oil . It restores the function of the skin's barrier; it boosts skin protection and prevents it ageing.
Organic Argan Oil . It contains 80% unsaturated fatty acids, it is rich in essential fatty acids and vitamin E. High nutritional value for the skin, it inhibits free radicals, it prevents irritation, peeling and dehydration.
Ecological Aloe Vera . Intense hydration, it protects the skin from daily aggressions, it combats dryness and prevents dehydration.
Ecological Shea Butter . It restores the epidermic barrier. More flexible and functional skin.
Camomile Butter. It contains anti-inflammatory and reparatory properties. It calms reactive skin and improves rough skin.
Formulated without sulphates, parabens, mineral oils, phthalates, paraffin or petroleum.
To sum up, when it comes to its benefits: it gets rid of impurities, tones and (really) deeply moisturises the skin erasing the signs of ageing and offering up a renewed glow with an incredibly healthy-looking complexion; instantly plumped out skin, with a more youthful aspect and firm skin that is visibly more even, with a soft and velvety feel.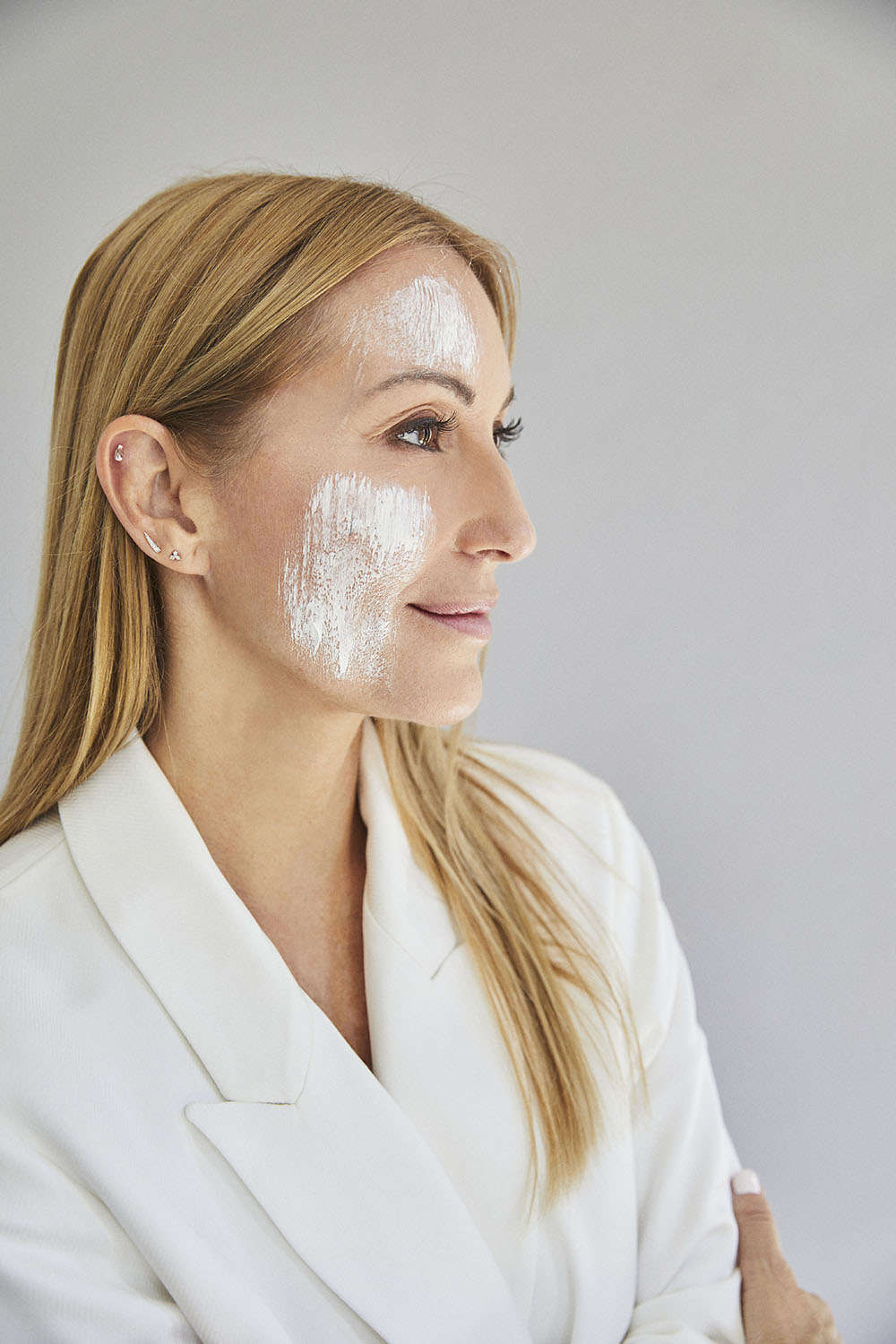 Method of use: You have to apply a generous layer of the mask to the face, neck and decolletage. Applying a soft massage until the charcoal turns the colour of the product grey. Leave it on for 15 minutes (I leave it on for over an hour, depending on how I feel at home). Rinse it off with soapy water.
Important to bear in mind: Miriam Quevedo have launched a special promotion that will last until the end of the month of September. For every purchase of Black Baccara Global Perfecting Velvet Mask, retail size (100ml), you can get free gift made up of 1 pink wash bag, 1 deluxe sample of Volcanic Cleansing powder and 1 deluxe sample of BB bio-adaptive cream.
It is fundamental to take good care of your skin; it is our business card for our everyday relations. We are going for the trend that embraces minimal invasive procedures and we value the health and appearance in equal measures.
Photography: Patricia Bonet.
Production and styling: Mariona Planas.
Hair and make up: Núria Ribera.